History of Van der Valk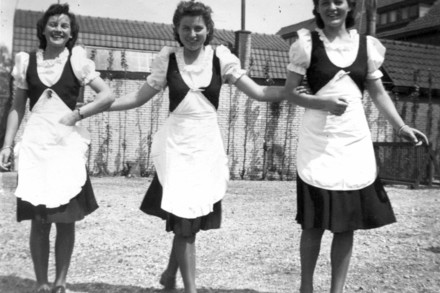 From pancakes bakery to hotel chain
In the year 1929, Martinus and Riet van der Valk founded their little tourist restaurant "De Gouden Leeuw" in Voorschoten (Netherlands). At first, they only sold lemonade and coffee, but soon Riet began to prepare pancakes and other dainties for their hungry guests. The news of good food and drink for good value spread quickly, and in no time the place was too small so that a bigger coffee shop had to be added.
In the meantime a butcher's shop had also been established, since the couple strove to produce and market on their own goods that were needed for their restaurants (and later on their hotels). In 1939, the street where the restaurant was situated, was broadened, so that the tourist coffee shop was pulled down and a new building with 10 hotel rooms was constructed.
Today, also furnishing houses, furniture factories, kitchen suppliers and travel companies belong to the group. When Martinus van der Valk passed away in 1969, there already were 16 hotels and restaurants! The foundation stone of a family company was laid, with each son and each daughter of the large family owning a hotel or a restaurant. Over the years, also grandchildren and greatgrand-children went into the family business, which today consists of more than 100 hotels and restaurants.
From the very beginning, each business has been run by a family member, and so it is no wonder that the private and familiar atmosphere has remained until today, despite the enormous growth of the Van der Valk hotel chain. As soon as you see our heraldic animal, the toucan, in Germany, the Netherlands, Belgium, France, Spain or on the Dutch Antilles, you know that you have found the ideal spot for relaxation, recovery, congresses and many more activities. And traditionally, it is all excellent value for your money
When you catch sight of the heraldic animal, the toucan, in Germany, Holland, Belgium, France, Spain or the Caribbean, you can be sure: you are in a place that is made for relaxing, recuperating, meeting and a host of other activities - all at outstanding value for money. Back in 1986, the door to a world of comfort and hospitality was flung open with the opening of the first Van der Valk Hotel in Moers, Germany. Since then, the Van der Valk family has impressively established itself in the German tourism market.

In Germany, nine jewels of the Van der Valk chain grace the landscape:
Hotel Moers, Hotel Gladbeck, Hotel Melle-Osnabrück, Hotel Hildesheim, Landhotel Spornitz, Golfhotel Serrahn, Hotel Berlin-Brandenburg, Hotel & alpincenter Hamburg-Wittenburg and Hotel Düsseldorf.
Each of these hotels is nestled in its own enchanting surroundings and exudes a distinctive charm. In addition, good accessibility is also a top priority. Thus, many hotels are not far from highways and in an excellent location, which not only makes an uncomplicated arrival without stress possible, but declares it a goal.
In Moers, located on the picturesque Lower Rhine, the first Van der Valk Hotel in Germany awaits you. Directly on the highway, it invites you to explore the beautiful surroundings. Elegance paired with modern comfort awaits you at the Van der Valk Hotel Gladbeck, whose heart pulsates in the cultural melting pot of the Ruhr region. And if you are already in the Ruhr area: Also visit our large alpincenter in Bottrop; just a stone's throw away from Hotel Gladbeck. There the hearts of all winter sports fans beat faster!

There is also a Van der Valk Hotel in Düsseldorf, the metropolis on the Rhine, which is considered a mixture of modern art, Rhenish joie de vivre and international elegance.
Melle-Osnabrück is a picturesque retreat that captures the beauty of the Osnabrück region. The hotel in Hildesheim presents itself as a gateway to Lower Saxony's cultural landscape with its magnificent churches and museums.
At the Landhotel Spornitz and the Golfhotel Serrahn, amidst the unspoiled nature of Mecklenburg-Vorpommern, you can take a deep breath and recharge your batteries. Or try your luck at the golf club. The hotel in Hamburg-Wittenburg will enchant you with Nordic flair and the charm of Mecklenburg-Vorpommern. Another alpincenter also awaits you there, inviting everyone to get on their skis and snowboards. Water sports fans will enjoy a great time in Zachun and with the Zachun-Beach water ski lift!

Van der Valk Hotel Brandenburg-Berlin is the perfect starting point to explore the vibrant life of the capital.

For relaxation in the midst of greenery (e.g. at the Mecklenburg Lake District), there are our two resorts: the Van der Valk Naturresort Drewitz, where you can unwind in peace and quiet, and the Van der Valk Resort Linstow, where pure life reigns.
Each hotel and resort is an oasis of hospitality waiting to indulge your senses and create unforgettable memories. Warm, family hospitality has always been especially important to us, and you can feel it in all of our locations.
Discover the beauty of Germany with Van der Valk!

You will be amazed at how surprisingly diverse we are.